PRODUCT HOME
SPECIFICATIONS
ACCESSORIES
SUPPORT
»» THIS PRODUCT IS DISCONTINUED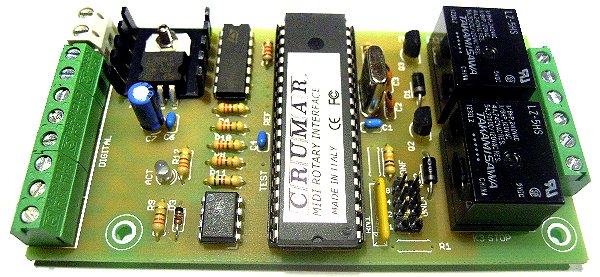 Other images: 1 2
MIDI ROTARY INTERFACE
This product helps you to connect a number of known "Clonewheel" organs or other MIDI equipment to a vintage or modern rotary speaker or digital simulator. Rotary speakers have motors that establish the speed of the rotating speakers, usually for a slow or fast rotation, or even no rotation. This board receives the command under the form of a MIDI message and controls two mechanical relays that, if connected the right way to the motor circuitry, control the rotation speeds.
You can choose which known Clonewheel organ to set for the MIDI control via the "CONF" jumper.

This is an OEM device (OEM = Original Equipment Manufacturer), as such it is intended to be part of a more complex product that the end user is going to assemble according to his own needs.
Connections are offered under the form of screw terminal blocks, that are sockets into which you can insert a wire and lock it with a screwdriver. This way you don't have to solder anything. Sockets are on the two sides of the board.


This video shows how the Crumar MIDI Rotary Interface is connected to a vintage 145 rotary speaker and is controlled by four different MIDI keyboards.




The following video is courtesy by Frank Montis.