News archive
May 27, 2015 VB3CE2 v.2.3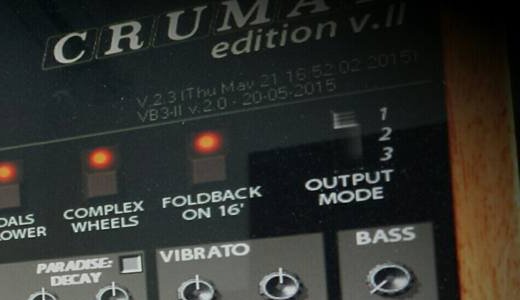 Crumar presents a new update for your Crumar Mojo.

Changes in VB3CE2 v.2.3:
– ADDED: new 3 band EQ with semi-parametric middle range
– ADDED: Rotary sim "Memphis style" option unplugs the lower rotor
– ADDED: Organ percussion "Paradise mod." causes the percussion to never decay
– the limiter and the output trim pot have been removed and replaced with a new and efficient "soft clipping" algorithm that prevents hard clipping when the output level reaches 0 dBFS
– slight yet important improvements and optimizations over all sound engines
– new tine and reed piano algorithm
– combo organ waveforms are now perfectly in phase
– slightly improved the bass response of the tonewheel organ by modifying the wave shape of the lower virtual tonewheels
– FIXED: custom MIDI mapping is now saved and restored properly
– FIXED: no more pops on tines piano attack transients

Enjoy your Crumar instrument!


---
Related link
ALL NEWS HEADLINES...